Price 9700 UAH
3-9.07, 17-23.07, 7-13.08, 21-27.08 2022
To feel the overflowing number of emotions and see the amenities of Ukraine from another — extreme and energetic side. It's actually real, if you take an extreme tour with our cheerful company. We will climb mountains and conquer rivers. Peep in the caves and relax at the waterfalls. This experience will be cozy and extreme!
To register
The Extreme tour №2 program can be found below.
The alternative variant of the tour is:an Extreme Tour №1::22-28.08, 12-18.09
Besides this tour, there are more sightseeing options for tours to the Carpathians for a week, of which there are 2 routes.
First trip tour program (follow the link): One week at the Carpathians (26 excursions) and will last: 22-28.08, 29.08-4.09, 5-11.09, 12-18.09, 19-25.09, 10-16.10
Second trip tour program:Exclusive Carpathians for a week and will take place in 2022
An abbreviated option of a weekly tour, that will last for 5 days:Holidays in the Carpathians: 25-29.08, 15-19.09, 29.09-3.10, 27-31.10, 10-14.11, 24-28.11, 8-12.12
Tour through the Carpathian Places of Power (Weekly Extreme Tour)
Day 1
8:30 am, Lviv (departure from the Railway Station)
11:00 am Ternopil (departure from the railway station)
Lunch
1:00 pm -6:00 pm Optymistychna Cave
Check-in at the hotel
Supper
Day 2
Day 3
Day 4
8:30 am Breakfast
11:00 am — 4:00 pm Rafting down to Tisa
Lunch
Transfer to Pylypets. Check-in.
Supper
Day 5
9:00 am Breakfast

Optionally

Supper
Day 6
Day 7
Optymistychna Cave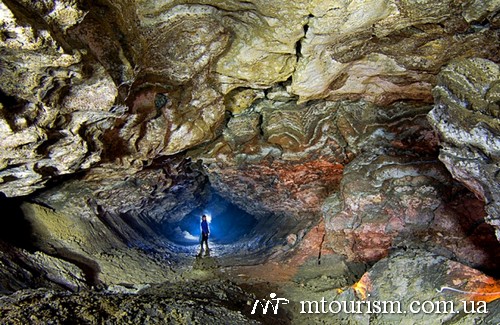 A unique underground world, 216 kilometers of which has already been explored. This is the longest gypsum cave in the world!
Its walls are covered with stunning mineral formations of various shapes that spangle in the light in different shades.
Furthermore, here you can see unique calcite helictites — a kind of peculiar cave corals of white, yellow and pink colors. Dress warmer — it will be cool in the cave.
Bukovets Pass
Bukovets Pass is located in the Ivano-Frankivsk region and its height ranks at 810 meters.
There are many coniferous plantations, the pass is surrounded by the streams of Chorny Cheremosh and Rybnitsa.
Getting to this place is effortless because dense forests alternate with spacious meadows, and the climb itself is gentle and comfortable.
Ternoshorska Lada (ascent)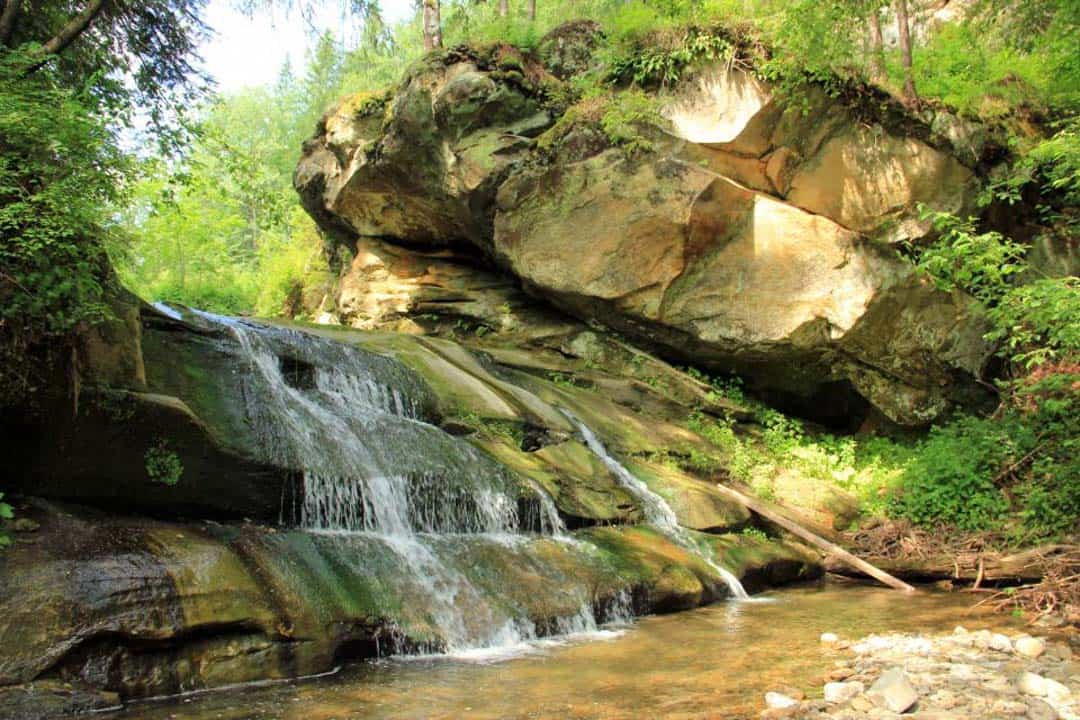 Ternoshorska Lada is known among travelers as a rock sanctuary. Scientists claim that this complex is more than a million years old and previously those boulders were part of the Sarmatian seabed.
Ternoshorska Lada is a series of rock sculptures, each of which has its name:
Stone circle.
Phallic stone.
Anthropomorphic figure.
Bowl stones and zoomorphic images.
Nature here is gorgeous, and the complex itself is quite spectacular. Therefore, tourists like to come to the rock sanctuary and see the bizarre images created innately.
Especially since in addition to the bizarre stone images, there is also a surprisingly picturesque nature. Twice a year, Ternoshorska Lada blooms with wild crocuses. Ternoshorsky Guk is making cascades right next to it. And on the mountain Ternoshora itself grow rare plants and trees.
Swimming in the mountain river Cheremosh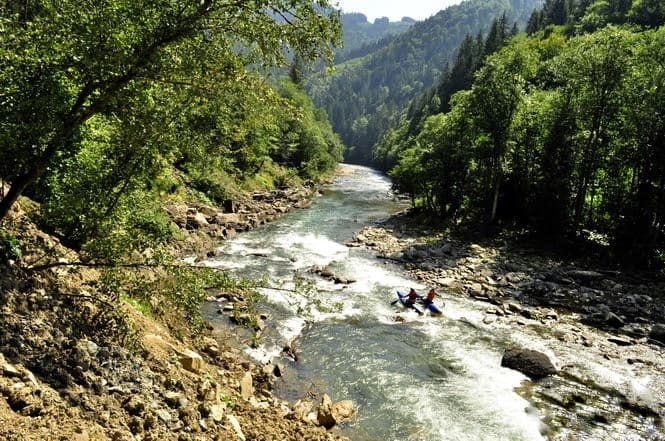 Cheremosh is a mountain river, 80 km long. It is a symbiosis of Black and White Cheremosh near the village of Usteriky. There are very picturesque landscapes that contribute to the most comfortable rest.
Trout fishing at Verkhovyna
Regardless of whether you consider yourself a professional fisherman or have never held a fishing rod, you will catch your trout at Verkhovyna.
Or, at least, taste it. Here, in the colorful restaurant "Ship", you can relax with both wholesomeness and bright.
In the middle of the Carpathians with their enchanting landscapes, surrounded by good people and with delicious food on the table.
Guk Synyavsky waterfall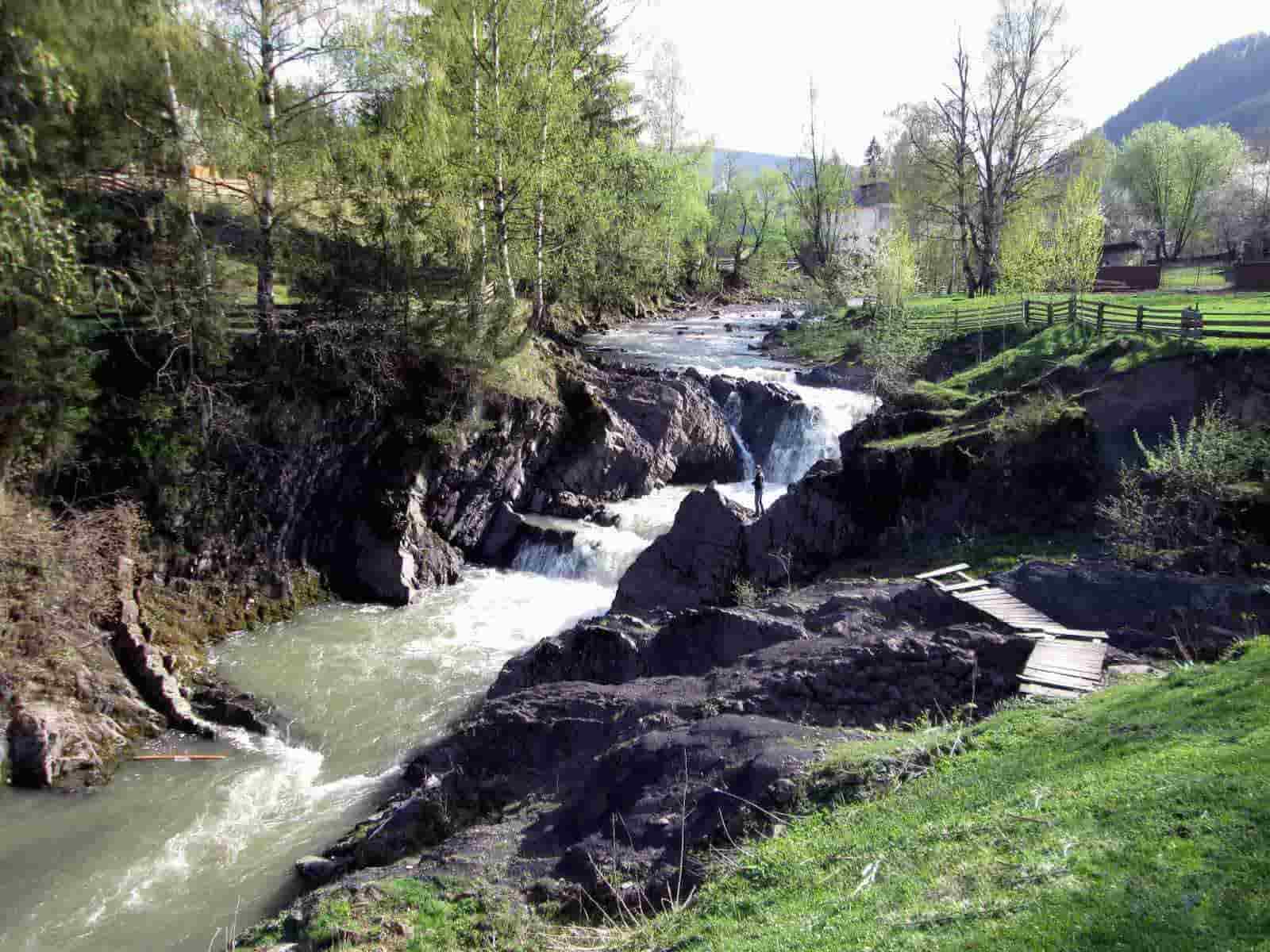 This is a small but gorgeous waterfall in the village of Shypit. Its waters upholster sharp rocks, creating audible noise, i.e., sound(Guk), in all surroundings.
Here you can comfortably relax and take beautiful photos against the backdrop of a natural wonder.
Semenchuk pass
The height of the Semenchuk pass is 1410 m. A dirt road stretches across the pass, which stays passable until winter.
In winter, people almost cannot be seen here and do not use the pass.
Jeeping to Tomnatyk Mountain (Pamir Radar Station)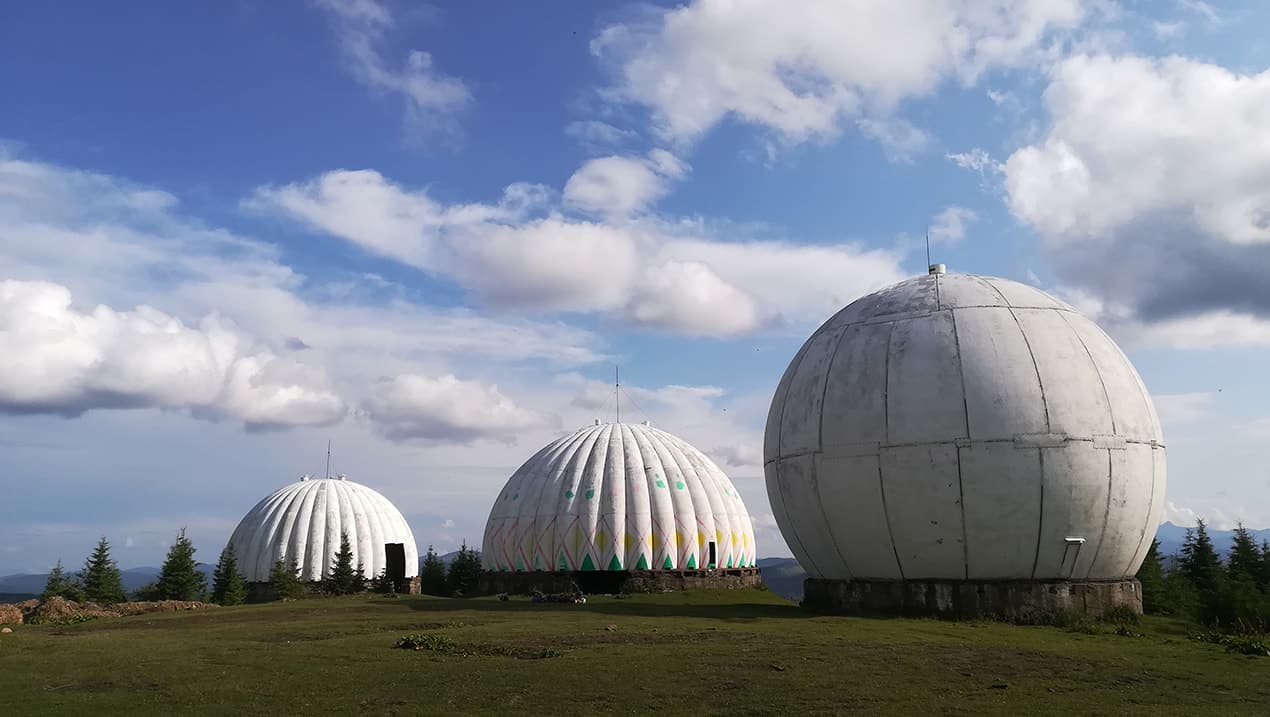 Conquer the mountain riding a massive and loud Jeep — is a special adventure. Especially if speaking about mysterious Tomnatyk mountain (1565 meters).
At the top, there are ruins of the Soviet radar base "Pamir". A former secret military unit has become an attractive tourist attraction today.
Majestic white balls, painted by contemporaries with various ornaments, attract the attention of inquisitive travelers from afar. Today, the once secret Pamir radar is a place for excursions. Ethno festivals are also held on the territory of the Pamir radar station and Ukrainian pop stars shoot their videos.
Swimming in the mountain river Suchava
The Suchava River has an area of 3,800 square kilometers, stretching 170 kilometers in Ukraine. There are often discussions between Ukrainians and Romanians over affiliation issues around this reservoir.
In any case, a vacation on the Suchava River is an opportunity to relax and swim in the water, which invigorates and recharges energy.
Rafting down to Tisa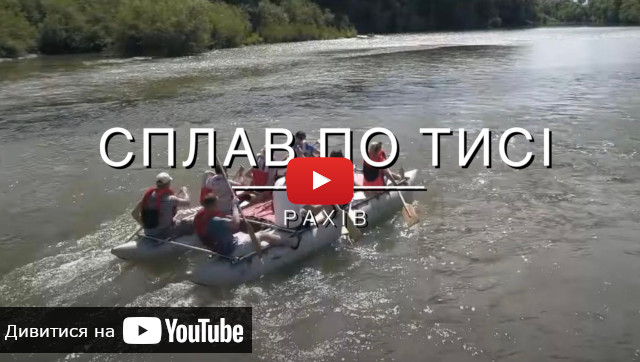 This is an unforgettable adventure. While rafting on the Tisa, you will get the most pleasure from contemplating the scenery. You will see the unique Maria Theresa rocks.
Get a good dose of adrenaline and test yourself for courage and endurance. The Tisza is the most picturesque river in the Carpathians, so it is really worth conquering to everyone.
Lift to Mount Gymba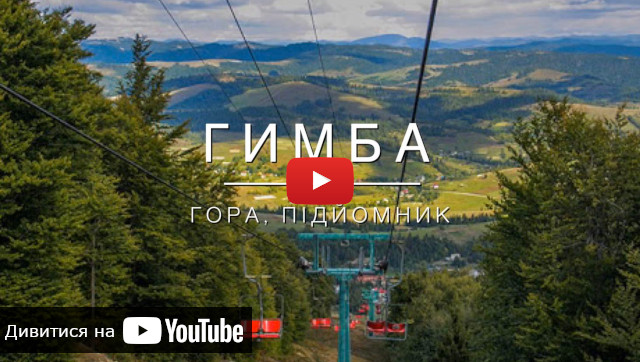 Mount Gemba is one of the highest in the mountain massif of Polonyna Borzhava. Its height reaches 1491 meters. You can climb to the top of it on foot or on the lift.
The latter option is as comfortable as possible. The lift, which is almost the longest in Transcarpathians, is open all year round and offers very picturesque views.
Shypit waterfall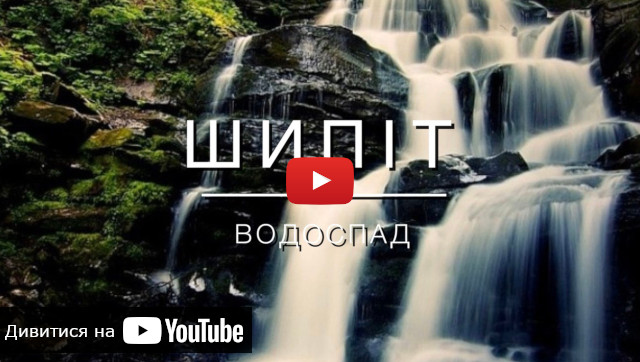 Shypit waterfall rustles among the rocks and forests on the slopes of Borzhava Polonyna.
Its uniqueness in the house is that you can admire the cascades of Shypit even in winter — the water here never freezes completely.
And in summer, a festival of subcultures is held near the waterfall.
Ascent of Mount Pikui.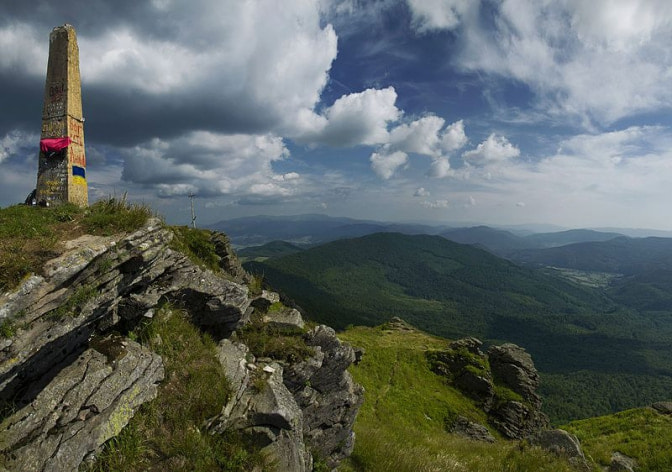 The height of Mount Pikuy reaches 1408 meters. Its slopes are covered with forests and meadows. Therefore, the pleasure of contemplating the Carpathian beauty during the trip is guaranteed.
From the top you can see the Beskids and Verkhovyna. There is also a huge stone pillar, which is over 80 years old.
Rafting down to Stryi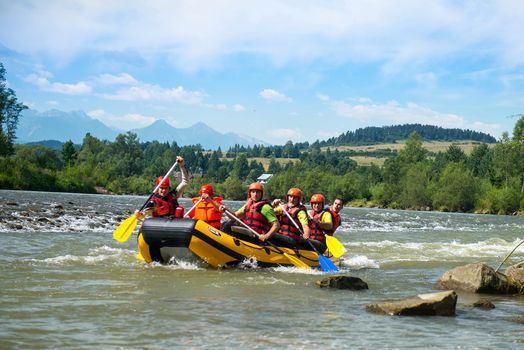 Rafting on the river Stryi is an adventure lasting 1.5 hours. We will cover 12 kilometers and the road will be as comfortable and calm as possible.
At the same time we will feel what rapids are, we will see picturesque rocks. Wonderful landscapes will open before us.
Chotrovi skeli climbing (place of power)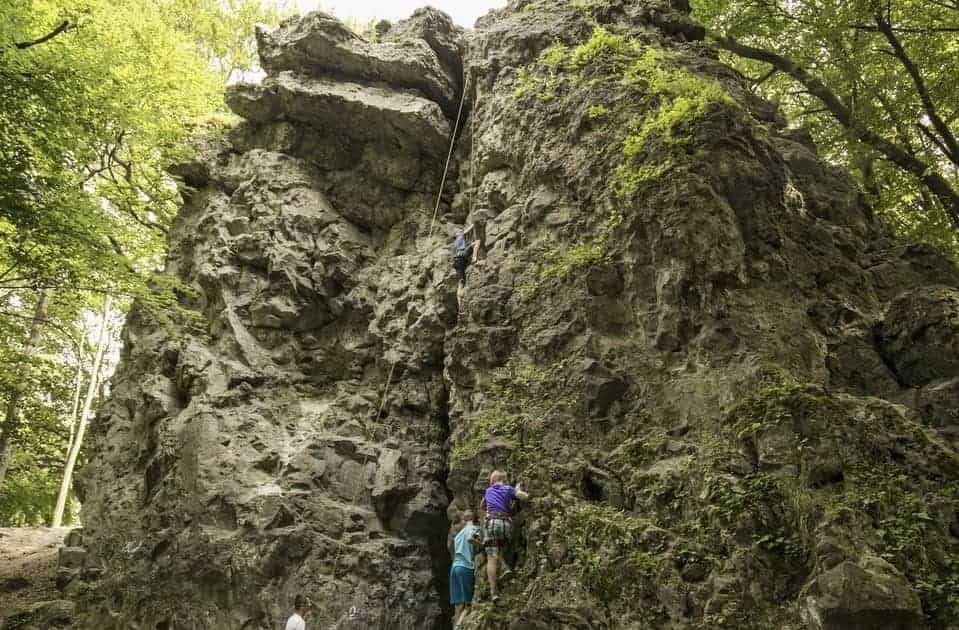 The height of the rocks is about 20 meters. All around, a quiet and clean forest. Therefore, you can get to the Imp's or Chotov's rocks even for rest.
They come here to conquer the top. This is a favorite place of climbers. And there is a legend about imps and roosters, which we will hear on the spot.
Residence:
3 nights — a hotel-type estate in Verkhovyna and 3 nights — a hotel-type estate in Pylypets.
Extreme Tour №2 price includes:
Food (3 meals per day);
Accommodation (1,200 UAH single supplement);
Bus fare;
Accompanying by a tour guide;
Guided tours in museums;
Entrance tickets;
All attractions.
Note 1* in some occasions, we don't have an influence on, some attractions may be replaced by equivalent ones.
Note 2* booking rules can be found with this link.
Note 3* it is FORBIDDEN to enter the tour bus with any SARS symptoms, body temperature higher than 37,5 °C or other respiratory diseases.