Price for group 40 $
Romantic Lviv is waiting for you! Italian Courtyard, Bernardine Catholic Church with cozy patios, sculptures of the Greek Gods at Rynok Square, Lovers Bench, Lovers Balcony, and Monument to Romeo and Juliet.
Daily (on order)
To register
The city emitting the scent of coffee, flowers, and chocolate was simply meant to be one of the most romantic cities in Ukraine. Atmospheric Masoch Cafe, gorgeous Bernardine Catholic Church, impressive Greek Gods, dreamy Italian Courtyard, modern Monument to Romeo and Juliet, and Lovers Bench – you will be able to see all these sights during our tour. The romantic tour around Lviv is a perfect gift for your sweetheart!
Excursion "Romantic Lviv"
Masoch Café
It's an extraordinary place offering a peculiar vision of feelings and passion. The café was named after Leopold von Sacher-Masoch, a famous writer who was originally from Lviv. You can not just eat well and try hot drinks here but also discover your wild side looking at your passion and feelings from a different angle. Are you intrigued? Lviv will reveal you all its secrets.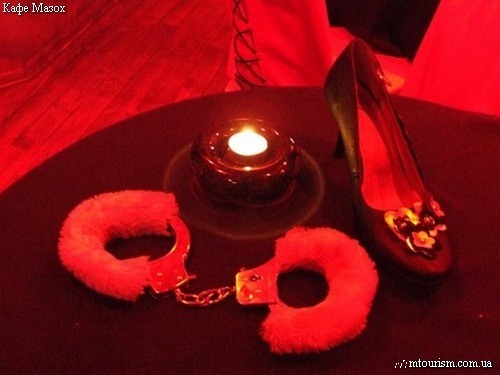 The Bernardine Catholic Church
The building architecture captivates you at first sight just like the legends that shroud in the Church walls. take a better look at the old clock on the building wall. Did you notice that it is 5 minutes ahead? If you didn't, then you are a person in love who doesn't pay attention to time passing by quickly. However, from the history, this fact is not associated with love. The clock is said to be set forward by a monk to protect the city against the invasion of the Turk.
Greek Gods
The fountains at Rynok Square are the favorite meeting place of both Lvivians who are in love and tourists. This is because the sculptures of Greek gods take care of these fountains. And you know, gods are all-powerful. They can even stir up your feelings, if you really want it. Take a look at the Greek fountains and don't forget to make a wish and be sure it will come true. At least, Lviv legends have it.
Italian Courtyard
Can you hear the sound of wind whispering? Actually, it's the King of Poland Jan Sobieski confesses his feelings for a French beauty Maria Kazmira. Their feelings were hidden and yet very strong. You can ask the guide during the tour why is love of the Polish man and the French lady hiding in the 16th century Italian Courtyard. The answer will surprise you.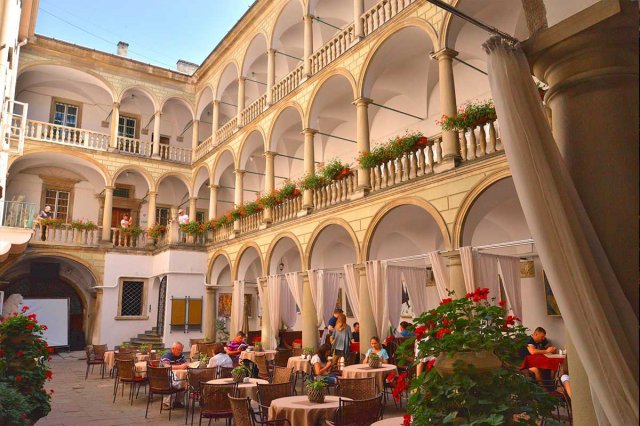 Lovers Bench
Ten gifted and hard working blacksmiths from the Iron Lion Society worked on this bench. It is special, because it was forged by the warmth of human hands and with thoughts about the closest people in the world. The craftsmen forged it for lovers who would be able to relax on the bench and whisper the best words to hear to each other right in the city center. Hold each other's hand when sitting down on the bench and the iron lions will protect your hearts for ever.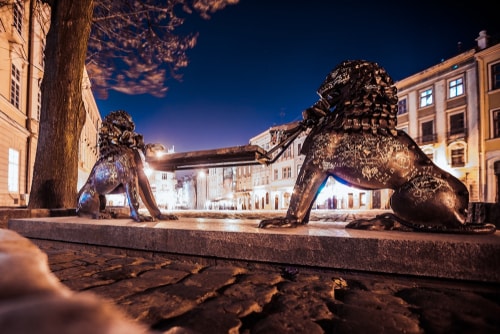 Lovers Balcony
People say that if you propose under this ancient Lviv balcony, be sure to hear 'Yes'. This place is filled with love energy. Remember the address: Rynok Square, 31. Long ago, the King of Poland fell in love here. Now it's your turn to warm someone's heart. Why don't you do it in Lviv, one of the most romantic Ukrainian cities?
Monument to Romeo and Juliet
Monument to Romeo and Juliet Do you know who Pelagia Krasnovskaya and Paulo Mikkelini are? These are two lovers, a Ukrainian and an Italian whose love story is no less touching than Shakespeare's Romeo and Juliet. Come to the amazing monument in the midst of the fountains and find out what fascinated the Ukrainian girl Italian boy and why they built a monument to their feelings in Lviv.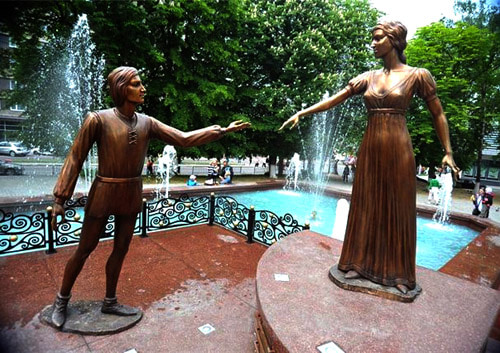 *Payment of the tour is paid in the equivalent in UAH at the rate of the tour operator*
To register:
Our popular tours: