Price for group UAH7000
We offer you to look on the Carpathians from the window Carpathians tram in Vyhoda. You will see reserve "Shyrkovets", source "Naftusia" and Rocks of Dovbush (Possible changes in the route due to weather conditions)
To register
The Carpathians can be viewed differently. Someone can admire them except on postcards or on the Internet on YouTube. Someone goes to conquer high mountains and meadows. We suggest that you look at the Carpathians from the window of the Carpathian tram in benefit. We will visit the Shyrkovets Nature Reserve, wash at the Naftusia Spring, share our emotions over the Oak Corner Above, take a selfie near Mizunsky Falls, get a drink from the Djurchak Spring, and visit the Sanatorium in Nowy Mizuni. After all, we will surely find out what Dovbush Rocks is, and which of the local legends are not legends at all, but the complete truth!
For a group of up to 7-8 people individual service one-day tour from Lviv :
in Ukrainian - UAH 5000/group
in Russian - UAH 5500/group
in English, Polish, German and other languages - UAH 7000/group
Excursion "Carpathian Tram and Dovbush Rocks"
Excursion is organized under the order.
A Ride by the Carpathian Tram
You may have already flown by planes, went by trains and roamed by bicycles. But you have not had a ride by narrow rail tram among the Carpathians. Carpathian tram is active transport that takes woodmen to work twice a day. And other days tourists have a ride on it. The guests of the Carpathians look at historical mountain sceneries from the window of wonder tram with amazement.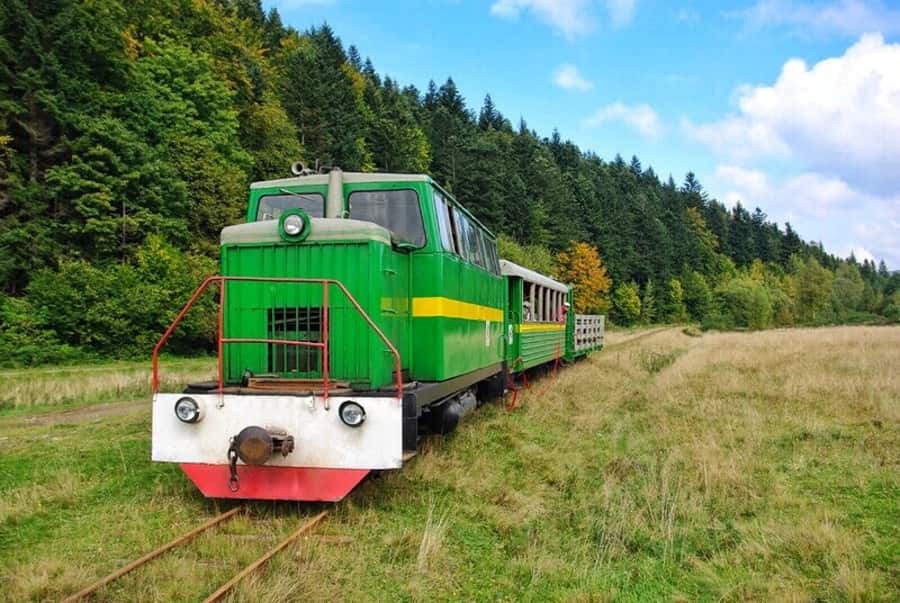 Excursion schedule: greentrain.com.ua/karpatsij-tramvaj
11: 00-11: 20 Excursion to the village Vyhoda
11: 20-11: 30 Landing on the Carpathian tram.
11: 30-12: Shyrkovets Reserve. 1
12: 00-12: 30 Transfer to N. Mizun and visit the Naftusia spring.
12: 30-13: 00 The Oak Corner Tract.
13: 00-13: 30 Return of the Carpathian Tram to the stop "Mizunsky Falls".
13: 30-14: 00 The source "Durkach".
14: 00-14: 20 Transfer to the "Sanatorium" in Nova Mizun.
14: 20-15: 00 Carpathian tram ride to the village Vyhoda
Cave complex "The Rocks of Dovbush" (possible changes in the route due to weather conditions)
You may get lost here. Or you may find the treasures. The cave complex "The caves of Dovbush" is a labyrinth that is 1 kilometer long and 200 meters wide. The height of the labyrinth is 80 meters. It is situated among the trees of beech and smereka forest and sand rocks. The opryshkys headed by legendary leader Oleksa Dovbush once hid here. Have a walk around the complex — stone embankments, rocky formations, mysterious gorges and deep holes, you will never forget such a journey.
The tour price includes:
— drive on bus
— accompanying by the tour guide
DOESN'T INCLUDE:
— meals,
— tickets
Entrance Fee:
— Travel by narrow-gauge
— Carpathian tram: adults 150 UAH, children 100 UAH;
— Dovbusha Rock Reserve: adults 40 UAH, children 20 UAH.
*Payment of the tour is paid in the equivalent of UAH at the rate of the tour operator*
To register
Our popular tours:
Tustan Fortress and Kamionka Waterfall